Science Book Challenge 2010
From Scienticity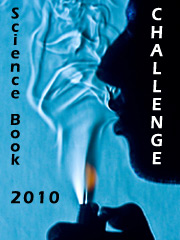 The 2011 Challenge is now open;
please join us there.

Read a book for science literacy!
This is our third annual challenge, bigger and better than ever!!
The Science Book Challenge is easy as pi: read 3 (or 3.14!) science books during 2010, then tell us about the books you've read and help spread science literacy.
Reading about science--by which we mean to include engineering, mathematics, and technology, too--is fun and rewarding. We want to encourage people to read about science with the challenge, and also to help potential readers find books that they will enjoy and profit from reading. That's why we publish our Book Notes, which are written largely by Science Book Challengers.
By taking the challenge and contributing your book notes to our growing and increasingly valuable collection, you're helping would-be science-book readers identify books they'd like to read. It's something for everyone!
This year we're looking forward to more participation, more book notes, and some special incentives for challengers. We're also hoping to reorganize the Book Notes to make it easier to browse and more useful to our readers.
The 2010 Science Book Challenge
Read at least three nonfiction books in 2010 related to the theme "Nature & Science". Your books should have something to do with science, scientists, how science operates, or the relationship of science with our culture. Your books might be popularizations of science, they might be histories, they might be biographies, they might be anthologies; they can be recent titles or older books. We take a very broad view of what makes for interesting and informative science reading, looking for perspectives on science as part of culture and history.
After you've read a book, write a short note about it giving your opinions of the book. Tell us what you'd tell a friend if you wanted to convince your friend to read it--or avoid it. Naturally, you can read some of the existing Book Notes for ideas. You might like to read our Book-note ratings for ideas about how to evaluate your books; we include ratings with every book note.
Don't worry if you find that you've read a book someone else has also read; we welcome multiple notes on one title.
Get your book note to us and we'll post it with the other notes in our Book Note section. Use the book-note form or the comment form to get in touch with us.
Spread the scienticity and tell other people about the Science Book Challenge: http://scienticity.net/wiki/Science_Book_Challenge.
Stuck for ideas about what books to read? Write to us and we'll help you identify some books that will match your interests.
We'd like you to make your participation in the Science Book Challenge public: send us your name and a link to your blog, if you have one, using our comment form, or join our Facebook group.
When you use your own blog to spread the word, make liberal use of our gorgeous Science Book Challenge 2010 graphic to make it pretty.
Happy reading!
The Science-Book Challengers
Everyone should feel free to accept the challenge any time before the end of 2010. There are no grades, just an opportunity to enjoy some science reading and help others. Be spontaneous and choose your books as you go or decide on your book list at the beginning--or any combination that suits your taste.
Let us know that you're taking the challenge and we'll put your name here with other challengers, along with updates about your notes as you contribute them. You can use the handy comment form to reach us. You can also sign up by joining our Facebook group. You might find it interesting to look at previous years' list of challengers in the Science-Book Challenge 2009 or the Science-Book Challenge 2008.
Here are the people we are aware of who have accepted the Science-Book Challenge 2010. If you're taking the Challenge, please let us know so your participation can inspire others to join.
Challenger
Link
Titles & Links to Book Notes
Gavin ( GG )
Page247
Warwick Anderson, The Collectors of Lost Souls : Turning Kuru Scientists Into Whitemen
Michael Keller, with art by Nicolle Rager Fuller, Charles Darwin's On the Origin of Species : A Graphic Adaptation
Jay Hosler, Clan Apis
Tim Gallagher, The Grail Bird : Hot on the Trail of the Ivory-Billed Woodpecker
teobesta
n/a
spontaneous
Violette Severin ( VS )
The Mystery Bookshelf
Andrew Chaikin with Victoria Kohl, Voices from the Moon : Apollo Astronauts Describe their Lunar Experiences
Brad Spellberg, Rising Plague : The Global Threat from Deadly Bacteria and our Dwindling Arsenal to Fight Them
Greg Breining, Super Volcano : The Ticking Time Bomb beneath Yellowstone National Park
Alwyn Scarth, Vesuvius : A Biography
Lynda ( LBB )
Lynda's Book Blog
tentatively:
Oceans: Exploring the Hidden Depths of the Underwater World, by Paul Rose and Anne Laking
Savage Earth: The Dramatic Story of Volcanoes and Earthquakes, by Alwyn Scarth
Planet Earth: As You've Never Seen It Before, by Sir David Attenborough, Alastair Fothergill, Jonathan Keeling, and Vanessa Berlowitz
Amanda
A Bookshelf Monstrosity
planned:
Love and Biology at the Center of the Universe, by Jennie Shortridge
The Blind Watchmaker, by Richard Dawkins
Proust and the Squid, by Maryanne Wolf
Lindy
n/a
spontaneous
Nicole R ( NR )
Endless Adventures in Reading
Jerry A. Coyne, Why Evolution Is True
Osha Gray Davidson, Fire in the Turtle House : The Green Sea Turtle and the Fate of the Ocean
Alan Weisman, The World Without Us
Michael Pollan, The Botany of Desire : A Plant's Eye View of the World
Rebecca Skloot, The Immortal Life of Henrietta Lacks
Christopher Moore, Fluke, or, I Know why the Winged Whale Sings
Kat Falls, Dark Life
Roma
n/a
spontaneous
J.T. Oldfield
Bibliofreakblog
tentatively:
NurtureShock: New Thinking About Children, by Po Bronson & Ashley Merryman
Your Inner Fish: A Journey into the 3.5-Billion-Year History of the Human Body, by Neil Shubin
The Link: Uncovering Our Earliest Ancestor, by Coliln Tudge
The Greatest Show on Earth: The Evidence for Evolution, by Richard Dawkins
The Economist Book of Obituaries
Eva ( EVA )
A Striped Armchair
Visit her blog here for an extensive list of possible titles!
Anastasia
Birdbrain(ed) Book Blog
Visit her blog here for a nice list of her proposed challenge titles.
Lori L.
She Treads Softly
spontaneous
Katie
Outside of a Dog
proposed:
Charles Seife, Zero: The Biography of a Dangerous Idea,
Richard Ellis, The Search for the Giant Squid: The Biology and Mythology of the World's Most Elusive Sea Creature
Robert T. Bakker, The Dinosaur Heresies: New Theories Unlocking the Mystery of the Dinosaurs and Their Extinction
Darcy Casavant
Foxeddc's Livejournal
proposed:
Francis S. Collins, The Language of God: A Scientist Presents Evidence for Belief,
Andrew Newberg and Mark Robert Waldman, How God changes Your Brain: Breakthrough Findings from a Leading Neuroscientist,
Andrew Newberg, Eugene d'Aquili, and Vince Rause, Why God Won't Go Away: Brain Science and the Biology of Belief
Jacqueline
Jacqueline's Jabberings
spontaneous
Lena
Save Ophelia
spontaneous
Lindsey Sparks
Sparks' Notes
spontaneous
Melwyk ( MK )
The Indextrious Reader
Simon Garfield, Mauve : How One Man Invented a Color that Changed the World
Esther M. Sternberg, Healing Spaces : The Science of Place and Well-Being
Chris
Stuff As Dreams Are Made On...
spontaneous
Melanie ( MKI )
Cynical Optimism
Bill Streever, Cold : Adventures in the World's Frozen Places
John M. Barry, The Great Influenza : The Epic Story of the Deadliest Plague in History
Nymeth
things mean a lot
possibly:
Carl Zimmer, Parasite Rex
Natalie Angier, The Canon
Raquel H. ( RSPH )
n/a
spontaneous
Anna Marie
n/a
spontaneous
Brittanie ( BT )
A Book Lover
spontaneous
Christa ( CMF )
Mental Foodie : A Book & Food Lover
Robert Marion, Genetic Rounds : A Doctor's Encounters in the Field that has Revolutionized Medicine
Rebecca Skloot, The Immortal Life of Henrietta Lacks
Beth ( BM )
Library Chicken
Leonard Mlodinow, The Drunkard's Walk : How Randomness Rules our Lives
Emma Gallegos
EmmaGGallegos
(Twitter Profile)
Sean Carroll, From Eternity to Here: The Quest for the Ultimate Theory of Time
Rebecca Solnit, Storming the Gates of Paradise: Landscapes for Politics
Donna Haraway, Simian, Cyborgs and Women: The Reinvention of Nature
Matt
n/a
spontaneous choices from cultural anthropology and social & personality psychology
joulesm
n/a
spontaneous
Amy J. ( AJ )
n/a
Ann Reynolds and Kenneth Wapner, with Corinne Mol, Medical Mysteries : From the Bizarre to the Deadly ... The Cases that have Baffled Doctors
Buried in Print ( BIP )
Buried in Print
Michael Pollan, The Omnivore's Dilemma : A Natural History of Four Meals
Norman Doidge, The Brain that Changes Itself : Stories of Personal Triumph from the Frontiers of Brain Science
Jared Diamond, Guns, Germs, and Steel : The Fates of Human Societies
Mary
Beach Reads
Richard Preston, The Wild Trees
Alan Burdick, Out of Eden
Alan Weisman, The World Without Us
Joy Renee
Joystory
sponaneous
GrrlScientist ( GRL )
GrrlScientist @GrrlScientist on Twitter
Rebecca O'Connor, Lift
Sarah
Books Like Water
spontaneous
Louise
n/a
Richard Holmes, The Age of Reason
Brian Greene, The Elegant Universe
Jill Bolte Taylor, My Stroke of Insight
Kristen Young ( GKY )
Geknitics
Jeremy Taylor, Not A Chimp : The Hunt to Find the Genes that Makes Us Human
Adrian Desmond and James Moore, Darwin's Sacred Cause : How a Hatred of Slavery Shaped Darwin's View on Human Evolution
Sean B. Carroll, Remarkable Creatures : Epic Adventures in the Search for the Origins of Species
Chris Lavers, The Natural History of Unicorns
Rebecca Skloot, The Immortal Life of Henrietta Lacks
Richard ( RRT )
n/a
spontaneous
Isaac ( SJB )
n/a
spontaneous
Jeff ( JNS )
Bearcastle Blog
Alan Bradley, The Sweetness at the Bottom of the Pie
Phillip F. Schewe, The Grid : A Journey through the Heart of our Electrified World
Sarah Andrews, In Cold Pursuit : A Mystery from the Last Continent
David Attenborough, Susan Owens, Martin Clayton, and Rea Alexandratos, Amazing Rare Things : The Art of Natural History in the Age of Discovery