Science Book Challenge 2013
From Scienticity
(Difference between revisions)
---
Revision as of 22:23, 25 February 2013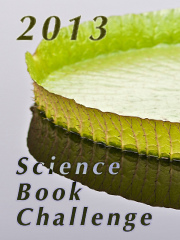 Read a book for science literacy!
This is our sixth annual challenge, bigger and better than ever!!
The Science Book Challenge is easy as pi: read 3 (or 3.14!) science books during 2013, then tell us and others about the books you've read--why you liked them or didn't like them--and help spread science literacy.
Reading about science--by which we mean to include engineering, mathematics, and technology, too--is fun and rewarding. We want to encourage people to read about science with this challenge. We also want to help potential readers find books they will enjoy and profit from reading; that's why we publish our Book Notes, which are written mostly by Science-Book Challengers.
By taking the challenge and contributing your book notes to our growing and increasingly valuable collection, you're helping would-be science-book readers identify books they'd like to read. It's new knowledge for everyone!
The 2013 Science Book Challenge
Read three (or more!) nonfiction books in 2013 related to the theme "Science & Culture". Your books should have something to do with science, scientists, how science operates, or the relationship of science with our culture. Your books might be popularizations of science, they might be histories, they might be biographies, they might be anthologies; they can be recent titles or older books, from the bookstore or your local library. We take a very broad view of what makes for interesting and informative science reading, looking for perspectives on science as part of culture and history.
After you've read a book, write a short note about it giving your opinions of the book. Tell us what you'd tell a friend if you wanted to convince your friend to read it--or avoid it. You can read some of the existing Book Notes for ideas. You might like to read our Book-note ratings for ideas about how to evaluate your books; we include ratings with every book note.
Don't worry if you find that you've read a book someone else has also read; we welcome multiple notes on one title.
Get your book note to us and we'll post it with the other notes in our Book Note section. Use the book-note form or the comment form to get in touch with us.
Spread the scienticity and tell other people about the Science Book Challenge, either here, http://scienticity.net/wiki/Science_Book_Challenge, or at our Facebook group.
Stuck for ideas about what books to read? Write to us and we'll help you identify some books that will match your interests.
Joining the Challenge
In truth, there's nothing you have to do to take the challenge except start reading. But when you've finished a book, please do share your book note with us and others through the book-note form or the comment form.
We'd like you to make your participation in the Science Book Challenge public by adding you to the list of challengers on this page. Send us your name (as much or as little as you want to appear) and a link to your blog, if you have one, using our comment form, or join our Facebook group. Putting your name here will encourage others to do the same.
When you use your own blog to spread the word, make liberal use of our gorgeous Science Book Challenge 2013 graphic to make it pretty.
Happy reading!
The Science-Book Challengers
Everyone should feel free to accept the challenge any time before the end of 2013. There are no grades, just an opportunity to enjoy some science reading and tell others about it. Be spontaneous and choose your books as you go or decide on your book list at the beginning--or any combination that suits your taste.
Let us know that you're taking the challenge and we'll put your name here with other challengers, along with updates about your notes as you contribute them. You can use the handy comment form to reach us. You can also sign up by joining our SBC Facebook group. You might find it interesting to look at previous years' list of challengers in the Science Book Challenge 2011, the Science Book Challenge 2010, the Science-Book Challenge 2009, or the Science-Book Challenge 2008.
Here are the people we are aware of who have accepted the Science-Book Challenge 2013. If you're taking the Challenge, please let us know. Your participation will inspire others to join.